The Birth Spacing Toolkit provides information to parents about the importance of waiting at least 18 to 24 months after a live birth before attempting the next pregnancy. Shorter intervals between pregnancies are associated with high-risk pregnancies and births.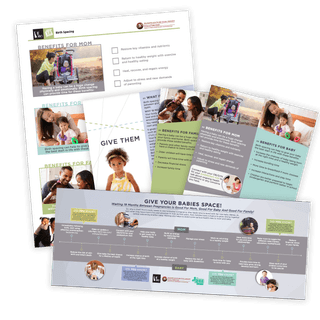 Benefits of Birth Spacing Flyer
(8.5"x11")
This fact sheet provides information about the benefits of birth spacing to mom, baby, and family. Available in English and Spanish.
Birth Spacing Brochure
(8"x9")
Information on birth spacing that opens to a 24" x 9" poster with an informational timeline.
Birth Spacing Implementation Provider Letter
(8.5"x11")
This information guide suggests how providers can reframe the postpartum visit to discuss optimal birth spacing. Other information is included about current Delaware statistics and the importance of making parents aware of this simple but effective way to reduce perinatal risks.
Planning for Future Pregnancies — Before, During, and After Webinar
A 40-minute video on birth spacing and pregnancy planning presented by the March of Dimes, Delaware Perinatal Cooperative, and Delaware Healthy Mother & Infant Consortium. Information is for those who provide care to childbearing women — offering data to support birth spacing.